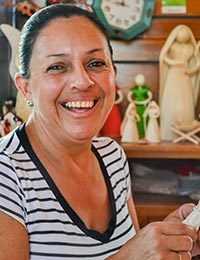 Blanca Padilla
Natural fiber ornaments and decor in Central America
"My name is Blanca Padilla, I was born on February 20, 1967 in the south of El Guarco, Costa Rica. I am dedicated to making products with cabuya (a fiber extracted from the agave plant).

"The cabuyera trade came to me through my grandfather, who inherited the trade from generation to generation. Since I was a child I helped my parents to do this work, which was the sustenance of my family for many years. My father processed the cabuya fiber and sold it in a company, but unfortunately this company closed and that is how we lost our main income. That was when we had to look for our ways of income. Since I was very little, my mother was very skilled in the development of handicrafts--everything turned into a work of art. Thanks to her we began to convert the cabuya into art so we could get ahead. With her I also discovered my skills to be able to create; God gave me the gift of creativity. I made my first products with a lot of fear that they would not be accepted, but little by little I gained confidence in myself and in what I could do.

"Thanks to my father I learned to plant, produce, defibrate and prepare the cabuya. This allowed me to be able to teach my husband, who helps me in the preparation of the raw material. My father and mother were my two great teachers to whom I owe what I am today. Thanks to this art that they taught me, I can work and bring money home without having to neglect my children, who are my main source of inspiration.

"Today I continue with this tradition; telling a story, rescuing a legacy, and leaving in each piece a piece of history, struggle and love for what I do.

"My biggest dream is to be able to use this art, to teach and give work to people in my community, so that we can develop our skills and grow economically, making these crafts known to many parts of the world. It is an honor to show you a little of Costa Rica, a little of me, and a family legacy that I want to preserve and transmit to my children. "
Customer Reviews
Purchased this? Leave your review.