Featured Reviews
By Serenity
Special Delicate Ceramic Heart
This is a very delightfully tea lite candle holder with a very intricate colorful holy family nativity in the background surrounded by a joyful heart. I was thrilled with the piece. It is extremely delicate due to it ceramic nature. If purchase, please keep the delicate nature in mind. I cleaned an area and my piece got knocked over by accident onto my floor. It dropped to the floor from a two foot high ledge and broke. I miss it.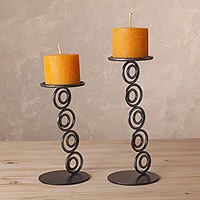 By Elizabeth
Charming and modern, unique and striking
These candleholders are very beautiful. They make a striking centre piece on my dinner table, but I'm sure they'd also make a wonderful gift. They arrived quickly and were well packaged. Bravo to the artist.
Featured Artist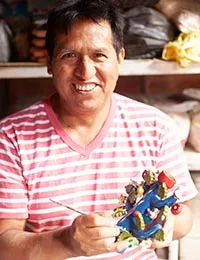 "Most of our pieces are hand-molded, as only the weight of the hand can give the right shape."
Alberto Aparicio Canchari was born in Ayacucho in 1965. A dedicated ceramist, he is inspired by the customs and beliefs of Andean villages. His workshop seems inhabited by half-finished creatures, waiting for him to give them the breath of life.

"I've been a ceramist since I was a child, as my parents taught me the craft. Later, I tried to develop my own pieces with a personal style. My main purpose is giving life to my creations, and I've achieved this through the expressions of their faces, aiming to reflect daily attitudes, Peruvian country scenes, even protests - and I'm satisfied and content. In the workshop I work full-time with my wife.

"Most of our pieces are hand-molded, as only the weight of the hand can give the right shape. We use clay and simple tools; paints and pigments are blended together to produce the required hues, like that of the skin. All are made to resist high temperatures. The process starts from when we mold the pieces, then we paint them, fire them, and at the end, just polish them.

"I've participated in several fairs and exhibitions, winning first and third prize in the 'Inti Raymi' Contest, 1993; and the second prize in the Credit Bank Contest, 1998. I hope that, through Novica, my art will be promoted and valued abroad, not only for its commercial value, but also for its cultural background."
Popular Peruvian Lamps and Lighting