Featured Reviews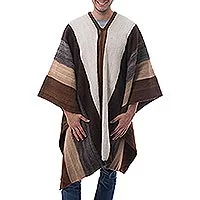 By J B
I Don't WANT TO TAKE IT OFF !
DEAREST MALDONADO FAMILY, I JUST RECEIVED YOUR MOST PRECIOUS ARTWORK " ANDEAN CELEBRATION " PANCHO. I JUST COULDN'T BELIEVE THE CARE THAT WAS GIVEN IN THE GIFT WRAP FIRST OF ALL,THEN I OPENED THE PACKAGE TO A GEORGOUS WORK OF ART. MY PANCHO, I AM A 80 YEAR OLD LADY, MASTER ARTIST MY SELF. I KNOW WONDERFUL ART. NOT ONLY THE BEAUTY , BUT HOW LONG THIS PANCHO WILL LAST. IT IS SO WELL MADE , IT WILL LAST WELL PAST MY LIFE TIME AND BEYOND. THE COLOURS ARE WELL THOUGHT OUT. THANK YOU, THANK YOU FAUSTINO. I WOULD BUY YOUR PRODUCTS ANY DAY AND RECOMMEND THIS ARTIST'S WORK ALWAYS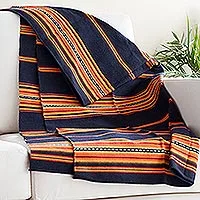 By Margaret
Very Pleased with this purchase.
I loved the contrast of the dark with the vibrant orange. The quality is high, and this blanket has added a lovely accent to our living room.
By Jacquelyn
EXCEPTIONAL CRAFTSMANSHIP
The belt is beautiful and surprisingly exceeded my high expectations! The background color is more of a skyblue than the turquoise I was anticipating, which actually works with more of my outfits. The belt is slightly wider and more substantial than I visualized when I read the dimensions. The colors are vibrant, the craftsmanship exceptional, and the shipping was prompt. I am thrilled!!!
Featured Artist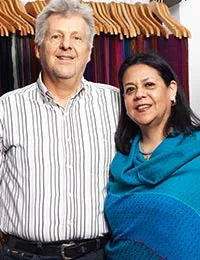 "We would like to thank you for supporting our art, which in turn will benefit many Peruvian families."
"My name is Raquel Iriarte de Brenner and I was born on May 20, 1958 in the province of Piura. I describe my work as an art form, and I've been dedicated to it along with my husband, Gregor. Our garments carry the name "Sillpa" which is an ancient Aymara word that implies "softness," "comfort," and "pleasure."

"What draws me to weaving is the opportunity to work with natural fibers by rescuing ancient Inca weaving techniques. The greatest challenge I have faced is to educate my children in the right path so they may have a professional career. As far as work is concerned, the greatest challenge has been to present our work to people from around the world."

"My name is Gregor Brenner Knoch and I was born in Peru on 10 October 1954. I come from an artistic background, therefore the world to me seems more about creativity than technology. Each person is an artist at heart, I think we only need to let our 'artist' out.

"What motivates me to do this kind of work is to see natural fibers transformed into garments. We use as reference natural colors including those you see in the Andean landscape, the jungle, and the coast.

"We use natural materials including alpaca wool, fine cotton, and silk. We help an Andean community by employing weavers on traditional looms who then help us finish each piece by hand. Sillpa is dedicated to preserving Peru's millenary weaving traditions.

"We would like to give our thanks to Novica customers for allowing us to be part of this great international team. We would like to thank you for supporting our art, which in turn will benefit many Peruvian families."
Popular Peruvian Hand Woven