Featured Reviews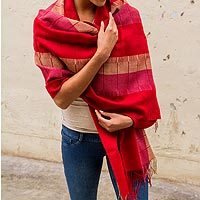 By Sarah
Absolutely gorgeous!
The weave & color is stunning and high quality. I like the weight of the alpaca yarn. It is lighter than sheep's wool and very soft. This is something you can wear almost anytime of year. I actually have it on as I write this review!
By Joy
Simply gorgeous!
Its fabulous! I purchased "Tradition" shawl and I am in complete ah of the stunning workmanship of this woman, the detailed work, and of how beautiful the shawl is whether on or off. I treasure this shawl, for it brings me great joy , and I will wear it with love to Aj Quen for her beautiful outstanding work and for the amazing artist she is who touched my heart. The colors and the quality are both a 10+! The shawl is perfect to wear for dress up times when you want to make a good impression and also for comfort on these chilly spring evenings. Thank you so much!!! Joy
By Pamela
Soft and comfortable
This is a nice wrap. It was mislabeled as silk, but when I purchased it, I knew it was supposed to be cotton, which it is. It is definitely one of the more unusual color and style patterns, but it is still very nice and soft.
Popular Striped Red Shawls