Featured Reviews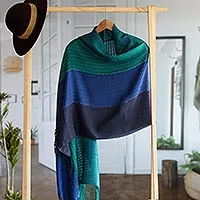 By Kathy
Capitola, here I come!
Absolutely beautiful! So soft, so colorful. I didn?t notice in the picture the nubbiness of the weave where the different colors come together, but it is definitely a lot of texture - very pretty.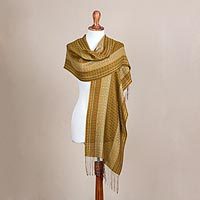 By Paula
Beautiful autumnal colors
I was a little concerned at first because I thought this looked a little "shiny" in the photo. However, the colors are more muted, and I prefer this. Though gold is the predominant color, there are slight lines of rust and dark green as well. The fabric is soft. I wish it were a bit wider, but I love it anyhow!
Featured Artist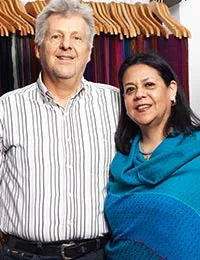 "We would like to thank you for supporting our art, which in turn will benefit many Peruvian families."
"My name is Raquel Iriarte de Brenner and I was born on May 20, 1958 in the province of Piura. I describe my work as an art form, and I've been dedicated to it along with my husband, Gregor. Our garments carry the name "Sillpa" which is an ancient Aymara word that implies "softness," "comfort," and "pleasure."

"What draws me to weaving is the opportunity to work with natural fibers by rescuing ancient Inca weaving techniques. The greatest challenge I have faced is to educate my children in the right path so they may have a professional career. As far as work is concerned, the greatest challenge has been to present our work to people from around the world."

"My name is Gregor Brenner Knoch and I was born in Peru on 10 October 1954. I come from an artistic background, therefore the world to me seems more about creativity than technology. Each person is an artist at heart, I think we only need to let our 'artist' out.

"What motivates me to do this kind of work is to see natural fibers transformed into garments. We use as reference natural colors including those you see in the Andean landscape, the jungle, and the coast.

"We use natural materials including alpaca wool, fine cotton, and silk. We help an Andean community by employing weavers on traditional looms who then help us finish each piece by hand. Sillpa is dedicated to preserving Peru's millenary weaving traditions.

"We would like to give our thanks to Novica customers for allowing us to be part of this great international team. We would like to thank you for supporting our art, which in turn will benefit many Peruvian families."
Popular Striped Alpaca Wool Blend Shawls