Featured Reviews
By M
Exceptionally Beautiful
Not only is the fabric substantial & colors gradually transitioned, but also the craftsmanship is beautiful..... also arrived in a lovely envelope package which enhanced everything...great presentation.
By Mary Mark
Wrapped in history and artistry - a legacy
I travel to Central Asia and am steeped in the history of the Jamawar, the exquisite wool and silk shawl. It is so much more than an accessory to me. It connects me with the heart and hands of beautiful people who have made and worn them for centuries. I wear them everywhere. It can be as warm as a coat and as beautiful as a poem. It is my compromise to show respect and cover my head when necessary. I think about the sheep being raised and sheared, the formulas and process for the rich dyes, the thoughts and time spent looming, and the intent of the designs. Thank you for this gift of yourself and your world.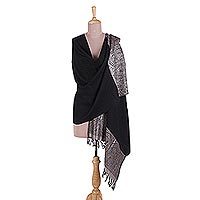 By Margaret
Warm, yet light
This has become a favorite. It's lightweight, the wool is spun like silk and yet it keeps me warm! I love it!
Popular Silk Blend Shawls