Featured Reviews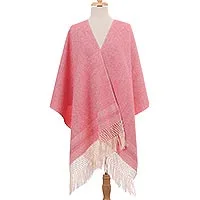 By Rhonda
Rose Pink Handwoven Cotton Rebozo
Beautiful workmanship and very well designed. The wrap is created out of quality materials, and it will last forever. Lovely pink color.
By Wendy
Beautiful rebozo in classic Mexican color
This rebozo is the perfect classic Mexican pink. The accent thread is a soft mango yellow with a lovely sheen to it. So lovely, I cannot wait to wear it!
By Alice
This is an exquisite rebozo shawl
I cannot begin to express to you how refined and lovely this shawl is! Pastel pink and cream... The creator of this shawl is certainly talented and should be very proud of her work. I also bought another rebozo through Novica which also was equally exquisite... In my opinion, Novica is a very trustworthy firm who sponsors quality items. There was a problem with Fedex International shipping so I called Laura at Novica in Santa Monica, CA. and she got right to work solving the problem. I got the shawl the next day by 10:30 am and also got a call plus an email from Laura who I thankedperfusely! I plan to buy two more shawls and I really trust the artisans and Novica to come through with flying colors!!!
Featured Artist
Angela Quinones
Woven cotton shawls and home accessories
"My art is unique and you won't find my designs among any other artisans. All my weavings are completely crafted by hand, and I have a very special technique."
"I'm Angela Quiñones Martinez, born in Oaxaca on June 1, 1971. I work mostly at weaving cotton tablecloths and bedspreads on a traditional Zapotec loom. My parents taught me. When I was a little girl, they wove cotton tablecloths and, when I grew older, I learned the art.

"Because of our economic situation, I was only able to finish primary school before starting to help them full time with their weavings. It was good practice, so I could learn to make tablecloths very well. Eventually, I began creating my own designs.

"I can't remember exactly when I started as an artisan. I feel like it's my family legacy and, since I wasn't able to continue my schooling, I decided to do what I already knew how to do.

"I'm sure my parents must have finished my first pieces for me, because I was just a child. I remember my first design was a small placemat in yellow and orange. I don't know what happened to it. Maybe it was sold.

"When I was 21, I got married. My husband comes from a family of artisans who weave traditional wool rugs, so we dedicate more time to making rugs. His name is Israel Ruiz Bazan, the head of the Ruiz Bazan family [Novica-featured artisans]. I left my own weavings aside and it wasn't until 2010 that I decided to start making cotton table linens, bedspreads and throws.

"I set up my own workshop where I create my own designs, which I've shown in a few artisan exhibits. My inspiration comes from everything I see in nature and what I am able to achieve by manipulating color combinations.

"I enjoy visiting my parents and going for walks in the countryside.

"At one time of my life, I went through some tough times. In the village where I live, we women are expected to look after the house and children, cook and clean, and work in the corn fields. We didn't have enough money, so my husband had to work all day and I really didn't have much time to weave. My priority was seeing that the children ate, got dressed and got to school.

"But with the help of my husband's family, I was able to weave when I had a free moment. Novica has done much to help the Ruiz Bazan family. With what we earn from our weavings, we've been able to send our children to school, and now I have time to weave my own designs.

"I have four children — three boys and a girl. The oldest is about to graduate from college and we're so proud of him. The next one is about to finish high school. The youngest boy has completed junior high and, like his brothers, is going on to high school. The youngest, my daughter, is in elementary school. It is my children who motivate my husband and me to be better every day.

"My art is unique and you won't find my designs among any other artisans. All my weavings are completely crafted by hand, and I have a very special technique that distinguishes my work from everyone else's. I began using it only recently and I call it 'black foot.' I hope you like my designs and that one day you'll come visit the area where I work. The doors are open to you.

"I'm grateful to Novica for giving us an alternative for marketing the handicrafts that our family creates."