Featured Reviews
By deirdre48
i will carry it every where
i am so thrill, happy and hope soon i can wear it, its so beautiful, i am going on a river cruise its just what i wanted and more. i just love the bag it came in it sits in my purse wait for me to ware.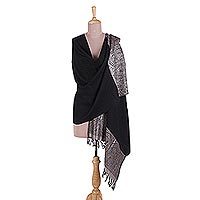 By Margaret
Warm, yet light
This has become a favorite. It's lightweight, the wool is spun like silk and yet it keeps me warm! I love it!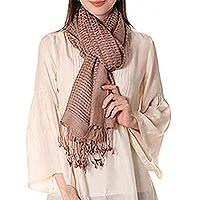 By Harriet
Beautiful Wrap
I purchased this wrap to wear with a black dress to a wedding. I think it will look very elegant and offset gold jewelry well. It is lovely and a rich taupe...a hard color to find. The workmanship is superb, and I will wear it for years--both for dressy and sporty events.
Featured Artist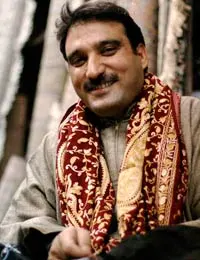 "I was born [...] in the Kashmir valley, where the tradition of carpet weaving and chain stitching is as old as the land itself."
"I was born in August, 1967, in the Kashmir valley, where the tradition of carpet weaving and chain stitching is as old as the land itself. Hailing from a family of Srinagar, I learned the art in my childhood, but it is for the last 12 years or so that I started off as an independent entrepreneur.

"For chain stitching of carpets we use a hassle cotton base, sketch out the design or impress it with a wooden die prepared by our master designer. Then, four artisans begin chain-stitching with pure wool from four sides giving rise to a well-prepared structure. It takes around 8-10 days to make a rug, and together with our master craftsman in Srinagar, I do most of the designs.

"The demand for chain-stitched rugs has increased, however, most people have been mistakenly led to believe that such sophisticated products are woven on a machine and they are thus hesitant to purchase.

"I have not only taught this art to many people but also helped them in developing their own self-sufficient units. I have participated in several fairs in India and abroad - Singapore, for example - having received an award.

"I would certainly want this art to continue in our family, and my immediate business plans are to give a worldwide exposure to our rugs. In this direction, our association with Novica will prove very fruitful. I believe our products will gain good acceptance amidst the valued customers of Novica."

Syed Izaz Hussein also demonstrates superior skill in the realm of papier maché, and his workshop offers beautiful, intricate works crafted in this method. Some 700 years ago Shah Hamadan, the Persian Sufia, came to Kashmir via the Silk Route and introduced the art of papier maché. Since that time, generations of Hussein's family have perpetuated the craft. Hussein even holds a copyright in certain teal-colored designs and patterns which he incorporates into select papier maché works.
Popular Indian Beige Shawls