Featured Reviews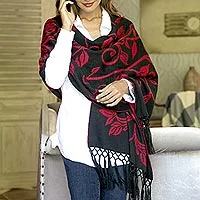 By Anita
Beautiful Shawl
I ordered this shawl for a gift and am now reordering for myself. The quality is very nice and the color and design are vivid and beautiful. I love the fact that its reversible and expect to get a lot of wear. Well worth the price.
By Tranquility
Bold Red Gauzy Shawl
If you want a very light weight shawl that you can wear from Valentine?s Day onward, the search is over. This is an extremely comfortable light weight & easy to throw in a suit case shawl. It has effortless class with the deep hard to find true blue red tone. This piece can be worn with jeans, skirt, etc. It is a great stable to any wardrobe. It has a gauze like texture that demands to be treated with kindly.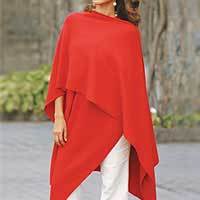 By Jenny
Just gorgeous!
I was nervous about the colour before it arrived. Would it be the bright red (of the picture) or a darker shade (as indicated by another reviewer)? As soon as I opened the parcel I was relieved. It is a gorgeous shade of red. Definitely darker than what it seems online, which is much more suitable for pale skin! At first I thought this would was too big (I'm a size 6/8 and not too tall). But, actually, it is perfect. It's a one size fits all and drapes beautifully when you wrap one side over your shoulder. Hanging straight down though it may be a bit too long for me, but I would wear it draped anyway, so no issue. This is an absolutely gorgeous piece. I really love it. My only negative is that it's a little bit itchy. It's also quite heavy, but not too heavy. I imagine switching between wearing a long winter coat and this as it is very warm and provides lots of coverage. I think this would be beautiful in a cream colour! I think this would make a beautiful gift.
Featured Artist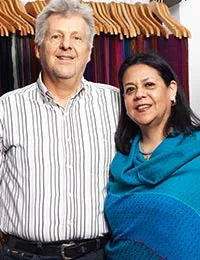 "We would like to thank you for supporting our art, which in turn will benefit many Peruvian families."
"My name is Raquel Iriarte de Brenner and I was born on May 20, 1958 in the province of Piura. I describe my work as an art form, and I've been dedicated to it along with my husband, Gregor. Our garments carry the name "Sillpa" which is an ancient Aymara word that implies "softness," "comfort," and "pleasure."

"What draws me to weaving is the opportunity to work with natural fibers by rescuing ancient Inca weaving techniques. The greatest challenge I have faced is to educate my children in the right path so they may have a professional career. As far as work is concerned, the greatest challenge has been to present our work to people from around the world."

"My name is Gregor Brenner Knoch and I was born in Peru on 10 October 1954. I come from an artistic background, therefore the world to me seems more about creativity than technology. Each person is an artist at heart, I think we only need to let our 'artist' out.

"What motivates me to do this kind of work is to see natural fibers transformed into garments. We use as reference natural colors including those you see in the Andean landscape, the jungle, and the coast.

"We use natural materials including alpaca wool, fine cotton, and silk. We help an Andean community by employing weavers on traditional looms who then help us finish each piece by hand. Sillpa is dedicated to preserving Peru's millenary weaving traditions.

"We would like to give our thanks to Novica customers for allowing us to be part of this great international team. We would like to thank you for supporting our art, which in turn will benefit many Peruvian families."
Popular Women's Red Alpaca Shawls