Women's Pink Alpaca Shawls
Featured Reviews
By Serenity
Light Feminine Shawl
This shawl is a dream to wear. It is light and could be used into the early fall. The pink color is very flattering. It has a soft rose pink tone that is never overpowering.
By Joan
A Piece OF Art
The pictures do not do my beautiful shawl justice. The color is vibrant and the attention to detail seen in each stitch is wonderful. The shawl brings back memories of watching my grandmother crochet a pattern similar to the one in this shawl. Thank you for sharing your talent with the world. I will think of you every time I wear the shawl.
By Joan
Gorgeous Shawl
I bought this shawl as a birthday gift for my daughter. The moment she tore off the wrapping, her eyes became as big as dinner plates and she fell in love with the scarf. The colors are bright and vibrant and adds an extra ompf to her appearance. It appears as though great care was taken in its making. And the best part, the wool is so soft and not itchy. Thank you Paola for this exquisite shawl.
Featured Artist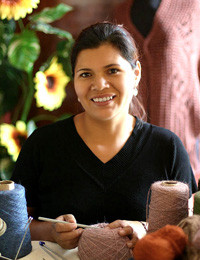 "It means so much to me when people like my designs and wear them.
"I was born in Trujillo on September 20, 1971, and lived there as a child. My mother taught me to knit and crochet, and from the time I was a little girl, I'd help her make tablecloths, sweaters and other items for my brothers.

"When I was 15, I went to Lima to seek a better future. When I finished high school, I didn't know what I wanted to do. I worked in a lot of jobs and, several years later, I got married and had three children.

"I started attending courses to learn different knitting and crochet techniques, and I began to create pieces made to order. At the same time, I entered nursing school and recently graduated. But my training in textile arts came from my mother, who learned from my grandmother, as this art has been handed down in my family for generations.

"I began knitting as a hobby when I was at home with time on my hands. I've always liked to keep busy, so I knitted things for my children and crocheted decorative items for the house. Little by little I learned more from the courses.

"Several times I've finished a piece but I don't want to sell it because my oldest daughter liked it so much she wanted it.

"This kind of craft is quite laborious – it requires a lot of time and patience. But I enjoy it and I can see my objectives achieved through each new design. It means so much to me when people like my designs and wear them. Through them, I try to transmit the effort, dedication and tolerance of the Peruvian woman.

"My greatest challenge in life has been finishing my nursing studies with three children at home and still finding time for the knitting that is my passion.

"This art means everything to me. I never mind the time I dedicate to each piece, I only want to see them finished because they all give me such satisfaction. I feel fulfilled as a person. I create each piece with love, and hope you enjoy my designs."