Featured Reviews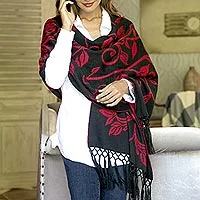 By Anita
Beautiful Shawl
I ordered this shawl for a gift and am now reordering for myself. The quality is very nice and the color and design are vivid and beautiful. I love the fact that its reversible and expect to get a lot of wear. Well worth the price.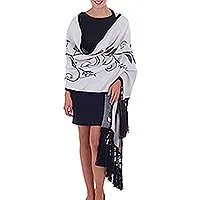 By Kathleen
Another wonderfully diverse shawl
I love the option of lighter colors (& reversible) for this shawl. It is long SOFT and warm. The style is also different with the seam down the back. Nice to have a new version as well as change in color schemes. Superb work !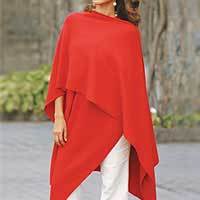 By Jenny
Just gorgeous!
I was nervous about the colour before it arrived. Would it be the bright red (of the picture) or a darker shade (as indicated by another reviewer)? As soon as I opened the parcel I was relieved. It is a gorgeous shade of red. Definitely darker than what it seems online, which is much more suitable for pale skin! At first I thought this would was too big (I'm a size 6/8 and not too tall). But, actually, it is perfect. It's a one size fits all and drapes beautifully when you wrap one side over your shoulder. Hanging straight down though it may be a bit too long for me, but I would wear it draped anyway, so no issue. This is an absolutely gorgeous piece. I really love it. My only negative is that it's a little bit itchy. It's also quite heavy, but not too heavy. I imagine switching between wearing a long winter coat and this as it is very warm and provides lots of coverage. I think this would be beautiful in a cream colour! I think this would make a beautiful gift.
Featured Artist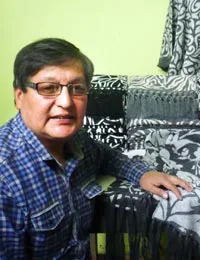 "My focus now is on creating fine knitwear of top quality, and in so doing sharing with the world the beauty of our culture and our Andean textiles."
"I was born in Huancayo with a love for my land and a great desire to learn, so my father taught me how to knit when I was very young. I grew up wanting to make improvements my father's small workshop.

"I studied industrial engineering, and that's when I met wife. Since then she's been my rock.

"When I was working as a professor of technical design I started designing using different colors and then translating them into knitted patterns at my father's workshop.

"Times in Peru were very difficult between 1985 and 1990, and my parents started selling their machines to support their family. After my parents passed away, my wife and I got a small capital to start our own workshop. We started with six sweaters and as they began to sell production began to increase, so did our dedication.

"We also had to deal with some tough experiences such as being conned, orders that didn't get paid or faulty designs. But all of this became a learning experience and with hard work, plus the support of my wife and friends, I improved products and processes.

"My focus now is on creating fine knitwear of top quality, and in so doing sharing with the world the beauty of our culture and our Andean textiles. I work with a team of artisans who believe in my objective and I'm thrilled that we all enjoy our line of work so that we'll give it our most."
Popular Peruvian Acrylic Blend Shawls