Featured Reviews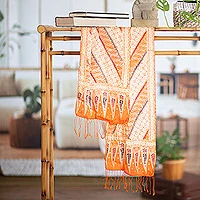 By JoAnn
Just gorgous!
This is a gift for my sister for her birthday along with a purse...it will match perfectly...the craftsmanship is beautiful...I acatually bought one a few years ago in yellows and blues for my Mom and she loved it...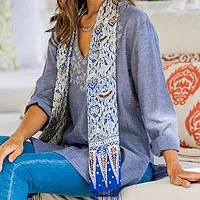 By Neal
She Loves It!
Wanted to give my wife something special to wear as a thank you gift. She has put this beautiful light silk scarf around her neck a couple of times already and she loves it. Thank you for providing me a place to find wonderful hand-made gifts that are always appreciated.
By Claire
Beautiful craftsmanship & extremely fast delivery
I cant believe how fast it arrived and how beautiful it is. I also appreciated the handwritten postcard. It makes me want to visit Bali! Mahalo nui loa from the island of Hawaii!
Featured Artist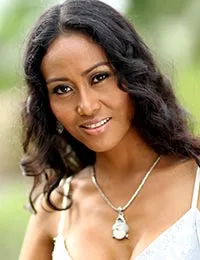 "I really enjoy my life as a model, dancer, actress, wife, and mother of a beautiful daughter…."
"I was born in 1976 in a village where people preserve their traditional culture. Art has always been a part of my family, as my mother is a dancer.

"When I was little, I learned to dance. As times passed and I got older, I started a new career as a painting model in 1995, and the next year I played a part in a television mini series. It was a true story of romance that happened in Ubud between Don Antonio Blanco, a European painter, and Ni Ronji, a dancer and model. They lived a happy life until death tore them apart.

"Working as a model, dancer and actress has enabled me to travel to a number of countries. One day in 2001, I met a man from Wina, Austria, who had been living in Bali for several years. His name is Georg Erhart. His appreciation of, and respect for, Balinese art and culture made me fall in love with him. It was very important for me that my relationship was with a person who understands and respects my beliefs and culture. Even though I married a foreigner, I never wanted to part from my traditions. However, loving my own culture very much doesn't stop me from learning about others, and I learned lots of new things from Georg.

"My mother loves to wear batik textiles and she has a large collection of very old batiks. I became even more fascinated with batik ever since I traveled around Indonesia and realized that this is a product of Indonesian culture that is appreciated throughout the world. I know that the value of batik is not confined to apparent beauty ­- the kind of shallow beauty that impresses by the complexity of designs or harmony of colors. Moreover, batik has a divine beauty evoked by its design, with a deep idealistic worth resultant from the merging of Hindu-Javanese and Chinese cultures. It is a kind of spiritual beauty that makes Indonesian batik stand out over that of other countries.

"I try to make something special and different from batik textiles. Along with Georg, I select the finest silk batik of Indonesia to create fashionable gift items, presented in an elegant box and marketed as 'Melati's Collection.' In my spare time, I also love to design jewelry.

"I really enjoy my life as a model, dancer, actress, wife, and mother of a beautiful daughter named Ni Luh Maha Chandani."
Popular Balinese Silk Scarves