Featured Reviews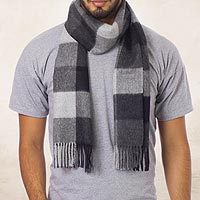 By Micheline
Beyond my expectation!
Absolutely beautiful! This scarf was made with love. Thank you. NB. Is this item available year-around or just during winter? I like to order it for my other brother next year. Also alert if it ever goes on sale. Thanks. Micheline Fleurant Bloomington IN.
By Jackie
Perfect
It is everything stated and more. It is a gift for my father's birthday. What an amazing thing to be able to have a scarf made from the Andes. My great thanks to artist. It is a beautiful piece of art.
By Gordon
Delightfully soft
I very much like this scarf. However, be aware that the blue color is more turquoise-to-aqua than true blue; this makes it a bit more difficult to match with blue suits/shirts. But I enjoy the feel and will use it more for sport than for the originally intended dress.
Featured Artist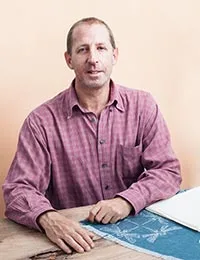 "Whenever I want to create something new and interesting I look for inspiration to my beloved Peru: our cultural diversity, colors and customs."
"Ever since I can remember, I've always been interested in all things textile: the colors, forms and textures. I was born in Lima but since my parents were from Arequipa we went there very often. Dad's interests had more to do with music, and I would accompany mom when she'd go shopping for alpaca apparel in Arequipa. How I loved everything they had! I loved touching them and I would try on everything I could. That's how my passion for natural Andean fibers came to be.

"I formally stepped into the magical world of natural fibers in 1998, first with cotton knits and then alpaca. And just like with every new beginning, mine was very tough. I worked 24/7 for about three years – sometimes I would hardly have time to go home, take a quick shower, and return. It's always like that when you start something new, but then everything gradually took on its own path and I was able to relax a little. I never take my vocation for granted, I love it.

"My hobby and spiritual therapy is surfing – running with the waves and being in contact with nature and the sea makes me forget about my problems and clear my mind. Then I can create new things and have clearer ideas.

"Whenever I want to create something new and interesting I look for inspiration to my beloved Peru: our cultural diversity, colors and customs. Then I find a way to convey them with each piece I make.

"My motivation comes from a desire to show the world the wonders of this beautiful fiber that nature has given us: alpaca. I wish to share the attributes of alpaca with apparel – be it for everyday use or for special occasions.

"My main motivation of course is my family – I would give my life for them. They are everything to me.

"I would like people to know about the goodness behind every single alpaca piece, the chain of people involved, the communities and families, the respect for their rights and our support for the preservation of the environment and its resources.

"All of this inspires me to lead a tranquil life and without the many unpleasant surprises that one can find this day and age. I love thinking things through, not overexcited nor do crazy things.

"I've presented my collections in different fashion fairs in Peru, as well as in Ecuador and Colombia.

"You won't regret purchasing one of our products, and I'm not just saying that because of the love and dedication that we give to each individual piece from start to finish. Each item is the result of a team effort: we share the work and we share the accolades.

"We also aim to help people realize that it is myth that all alpaca products are itchy. We hope that with our items people will feel the goodness that alpaca has to offer, especially the wonderful warmth that alpaca exudes."