Featured Reviews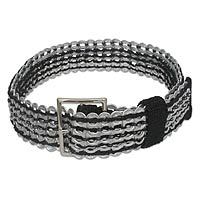 By Barbara
Stunning
I bought this as a gift, and an experiment, as the idea itself intrigued me and I was curious as to how it was made. Aesthetically, it exceeded my expectations. I am debating getting one for myself, even though I almost never wear belts....
By Christina
Beautifully designed!
I wish I could wear this beautiful belt! I pulled it from the package, marveled at the intricate looping design which is why I bought it, brilliant, so brilliant that if you put a gun to my head I couldn't tell you how to fasten it again! Nope, no clue, but brilliant design. I like puzzles, I wish I could have a little chat with Karl, really need to have a diagram enclosed with the belt for those of us who like to have a glass of wine and open packages and are not as brilliant. I will leave the 2nd gorgeous belt in tact until I master this one.