Featured Reviews
By Jackie
Love it!
I love how soft it is compared to the one I replaced it with. It came with rope with a reinforced section and S hooks. The rope is great to use with carabiners as they are more secure than S hooks. Thank you so much!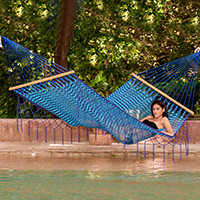 By Tom
We Love Our New Maya Hammock
This single hammock is perfect for our patio. It is supplied with hooks and rope. We also love the workmanship of the artist and the Sea and Sky color. With the supplied ropes added to the hammock, it hangs perfectly and can support up to 300 lbs. as long as it is anchored and tied properly.The bars at the ends keep the shape and make it easily to roll up when not in use.
Featured Artist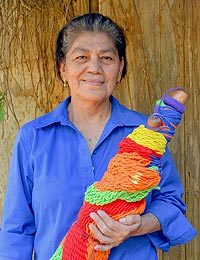 "I hope my workshop continues to grow so we'll become a stronger artist group that represents my country's art tradition."
"Hello, my friends! I'm a proud artisan from Nicaragua and I craft hammocks by hand. Their quality is very good. I'm a friendly person and very responsible. I love what I do and I enjoy life.

"Our Nicaraguan ancestors dedicated their lives to hammocks and other kinds of handicrafts. My family is no exception. From the time I was born, I've been close to this art and, as I grew older, my interest in it grew, too. I remember I began helping by turning a wooden when I was little. I also helped to twist the cotton twine.

"My grandfather taught me as I watched him work. Later on, my sister Gloria trained me.. She learned to make hammocks long before I did because she worked at it from the time she was young. I'm grateful for her time, patience and the love with which she taught me. She dedicated many hours to me and, when I couldn't do the embroidery well, she'd have me start over like a little child learning to take my first steps.

"I enjoy the entire process of hammock making. Today I have assistants and together we work faster and better. It's a challenge for me to find ways to streamline the process tso we can create more and better designs.

"In order to work as an independent artisan, my family has been my greatest inspiration. I felt fearful at first, not because I didn't know how to make hammock but because I had to find suppliers and assistants by myself and do everything necessary alone. But that uncertainty soon turned to confidence, which helped me fill the orders we received little by little. This has been a very good experience; I've grown as an artisan and also as a person.


Popular Blue Single Hand Woven Hammocks