Peruvian Leather Stools Furniture
Featured Reviews
By Linda
Beautiful stool
I received the stool today and my husband my put it together. It is a beautiful piece of work. The description says leather but the seat of the stool is hard and the carvings look like they're in wood. I still like the stool anyway. Thank you.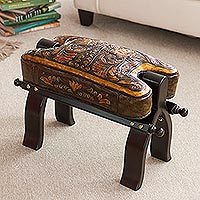 By Diane
This is so beautiful
Not only are the colors beautiful but the workmanship is truly outstanding. I haven't seen anything made so well in many years. I have it sitting next to my brown leather sofa where it can be seen by all. It also arrived at my home in just a weeks time. I have never been so pleased.Thank you ,Mr. Rios
By Anne DeJong
My table from Peru
When I saw this stool I had to have it! I travel to Peru years ago and this reminded me of the culture there and how beautiful it was. The Nazca lines were so interesting to me and when I saw this little stool with such detail it was amazing! The craftmenship is wonderful!! Thank you for bringing some more of Peru home to me!!