Featured Reviews
By Linda
Beautiful stool
I received the stool today and my husband my put it together. It is a beautiful piece of work. The description says leather but the seat of the stool is hard and the carvings look like they're in wood. I still like the stool anyway. Thank you.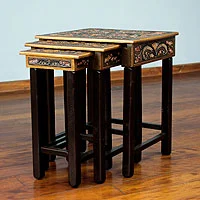 By Carol
Gorgeous Living Room Accessory
These nesting tables are absolutely beautiful. I have one at one end of our sofs and two on the other end. The workmanship is colorful and the detail is so beautiful. I love seeing them in my home.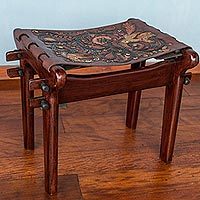 By Edith
Stool
This stool is beautiful! The craftsmanship exceptional. A truly quality piece of art/furniture I will treasure. Also packaging was the best I have seen and it was all paper that can be recycled. Great for the environment.
Featured Artist
Wilfredo Rios
Wood and tooled leather furniture
"My art is my life. Even though people tell me that at this age I should retire, I want to continue. My art is my profession and I cannot abandon it."
"I was born in 1936 in the province of Ollón. I don't remember my mother, only my father," Wilfredo Rios says. "I was raised by my grandmother. We were poor but I was able to finish primary school. But from the time I was a boy, I assumed the responsibility to get ahead in life. When I was 13, I went to work for a neighbor who crafted saddles and worked for him for about two years.

"In 1954, I went to Lima in search of a better life. I didn't know anyone there. I stayed in a hostel while I looked for work, and the very next week I found work in a hotel. One day I saw an ad in the newspaper for a specialist who knew how to sew hemp by hand. I applied for the job and they had me do a sample. I did the best I could, and the owner of the workshop was impressed. I was hired immediately.

"The workshop crafted leather furniture and I learned new techniques. After a month, I took the place of the master craftsman, whose health forced him to retire. Four years later, I joined the army to fulfill my military service requirements.

"Two years later, I returned from the jungle and visited my grandmother. I was able to help her a little and was fortunate enough to find work in different workshops that needed my skills. Then I returned to Lima to work as an artisan once more.

"I worked for several years getting paid by the piece. Eventually the workshop owner had to close down the business due to family problems and I moved to another workshop that created pieces exclusively for the American market. There I learned to create folding chairs and furniture. One day I offered chairs to a hotel. The administrator was amazed and ordered six, but I couldn't accept the order because I didn't have the money for materials. However, he helped me and encouraged me to open my own workshop. I did, and worked from 5 a.m. to 11 p.m. to be able to pay off the loans and get ahead. Eventually I sold my designs to shipping lines and mining companies, and was even able to export them to the U.S., Holland and Sweden.

"During that period, I got married and had four children.

"In 1985, I had differences with the landlord, who wanted to raise the rent too much. This led to legal problems. By then, I had bought a 5,000 square meter lot in Puente Piedra. I was forced to sell off 3,000 meters. After that, our currency suffered a devaluation and I lost almost everything. I had to move the workshop to the property I had left in Puente Piedra but I lost clients due to the distance.

"With time, things got better. I opened a shop in Miraflores, which my wife ran. Sadly, it did not prosper.

"One day, a friend visited me and invited me to join Novica, and we did, as the Rios Family. Our family has grown and my sons have introduced new techniques. I'm very proud of them and decided to leave the business to them. However I've gone back to the traditional handmade techniques I learned at the beginning. I create the designs that once took us out of extreme poverty and opened a new path for us in this world, and will be working under my own name.

"My art is my life. Even though people tell me that at this age I should retire, I want to continue. My art is my profession and I cannot abandon it. I enjoy bringing quality and love to my designs."